A main floor nursery complete with rocking chair, change table, and toys is available for use during all services. Parents are invited to care for their own infants in the nursery.
Presently all children, ages 3 to 12 meet for Sunday School during the second half of the morning service. The children take an active role in the first half of the service and share a few very interactive moments with the Pastor before they go downstairs. There are two classes. The one for children up to age four is called Bible Land, and the one for older children is called Faith Factory.
MAD (about Jesus) LAB is a science based interactive Children's event (ages 5-12) that takes place once per month on a Friday evening. The purpose of the event is to help children to learn important bible-based life lessons using cool science experiments to illustrate the principles being taught.
Supper is served, the experiment conducted, and hands-on applications experienced all in a fast-paced environment.
Registration and parental permission is required in order to attend. Registration information and forms are available upon request from the church office. (747-3799)
Our Ladies group meets annually in May or June to plan out events for the year. These include leadership of a Sunday service, a community service event, an outreach event, a missions event, and a secret sister program.
Our men's group meets once per month, generally for breakfast on the fourth Saturday of the month. There are, however, variations to this schedule to account for support of other church activities and sharing in combined meetings with men's groups from other churches. Our men's group also holds an annual Retreat in the winter.
Prayer is an important part of the Men's Ministry. Our men recently completed an assignment to visit every street in Mount Pearl to pray for those who live there, work there, go to school there, or spend their leisure time there.
Small groups are the primary discipleship tool of Solid Rock Wesleyan Church. We believe that when Jesus commissioned His disciples to "go and make disciples" He gave some strong clues as to how disciples are made. He spoke of "baptizing" to indicate that discipleship begins with a Genuine Conversion; He spoke of "teaching" to indicate the importance of a solid Biblical Foundation; He spoke of "obedience" to acknowledge that our moral and ethical decisions are the result of Deliberate Choices; and He affirmed His abiding presence to emphasize the importance of transformation – Becoming more and more like Him.
At Solid Rock we have grouped Jesus' commands into three broad areas – Love, Do, and Give. Our goal for Disciples, and for our small groups, is to see people becoming Relationally Whole, Fruitfully Engaged, and Consistently Generous.
Please contact the church office for more information about small group times, locations, and study topics.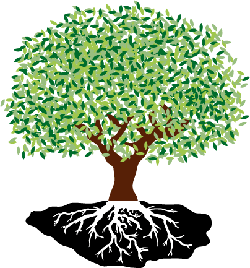 Solid Rock has chosen to take a satellite approach to church growth and discipleship because it allows us to centralize administration and decentralize ministry. What that means from a practical point of view is that the administrative function of the church is invested in a few gifted individuals so that the ministry of the church can be carried out in multiple locations by those whose gifts and passion are for connecting with people and making Christ known at a grass-roots level. Through this model it is possible, even for small groups of people in communities across this province, to have vibrant and healthy churches without being burdened down by financial and leadership concerns.
Our Next Satellite Location
We believe that the roots of faith run deep in Newfoundland and, specifically, we believe that the roots of Methodism, planted more than 250 years ago, are ready to bring forth new life once again. We are always on the look out for potential planters and locations for our next satellite. Whether that location is within the greater St. John's area or beyond is still a matter of sincere prayer.
Anyone in Newfoundland who might be interested in spear-heading the establishment of a Solid Rock satellite in your neighborhood or community is invited to contact the Pastor of Solid Rock.